We talk to many clients at Patrick A. Finn who are excited and energized about their home remodel. They've thought of what rooms they want to improve, the layout of their new space, and even features and appliances they want included.
However, one thing that is often not given much attention during the planning stages is interior design.
Interior design is an important aspect of making the most out of your home remodel. Read on to learn the best way to approach interior design when remodeling your home.
Start with a plan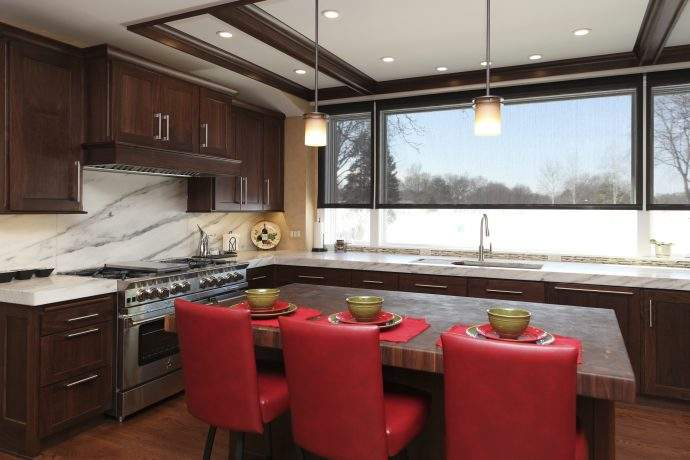 In order to achieve effective interior design, you must have a cohesive plan before you begin.
While it may not affect your remodel build-out, planning the direction of your interior remodel will make things much easier when you get to that stage. It will also allow you to potentially integrate different features or layouts that will compliment the style you're looking for.
It will be much easier for you to plan a cohesive and succinct interior design for your entire home — both what's being remodeled and what's staying the same structurally. You'll also be able to determine a budget for the project and decide where you want to invest the most resources.
Choose a design style to base your interior design around
Selecting the style of your remodel will guide decisions around the direction of your remodel and how you'll decorate the inside of your home.
While many homeowners have an exact idea of the direction they'd like to go with the style of their home, many may not have something pop-up in their mind immediately. Consider…
When in public spaces are there certain styles that you like? A restaurant with a decor you love?

Do any friends or family have homes with a distinct style you love?

Are there any movies with set pieces you love?
Still not sure? Take our style quiz!
Show some personality and design around your lifestyle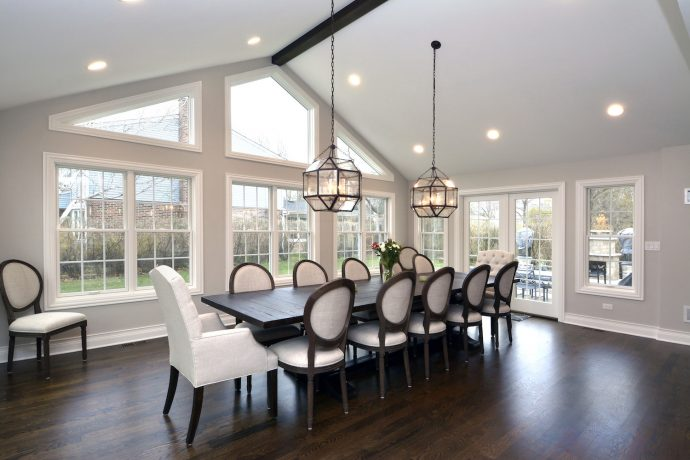 While it can be tempting to go with something that catches your eye in the moment, any style you choose should be one that fits within your personality and lifestyle. For instance, going with a style that leans heavily on white fabric may not be the best choice for families with 2 young children.
Tread cautiously with the latest trends
On a similar note, don't just go with a design because it's the "hot" style of the day. If you're someone who follows Pinterest, Houzz or other interior design content, you probably know how quickly design fads come in and out of style.
For instance, think how popular shag carpets were in the 80s. While this fad was extremely trendy at the time, the design direction did not age too well
With any interior design style, make sure it's something that you will still connect with and like in a decade.
Determine what you can use from your old space
Once you've planned a direction and style, take stock of your home. At this point you will likely know the direction of the structural remodel. With this information, determine what in your home fits within the style direction you've decided to take. While this applies to spaces that are not being remodeled, it also applies to items that could be repurposed in the newly remodeled parts of your home.
While you won't be able to completely furnish your new space with items you already have, most homeowners are usually able to repurpose some of their existing furniture, artwork, and decor.
What should be completed within the remodel?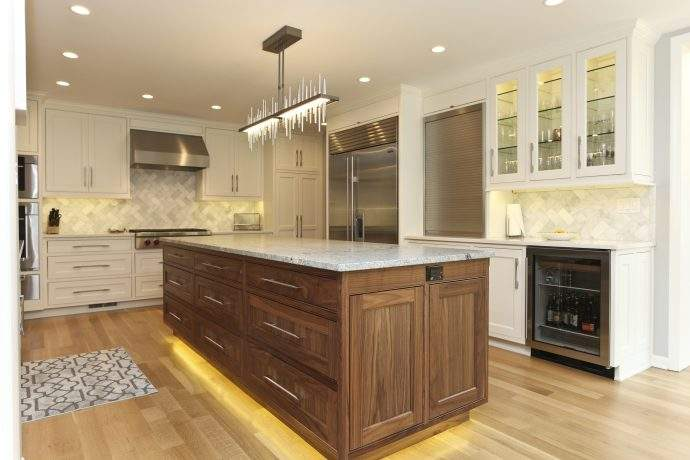 While interior design may be primarily focused on non-structural design decisions, that doesn't mean you can't integrate some aspects of your interior design into the structural remodel.
Some of the best ways to compliment interior design with traditional remodeling include...
Custom built-ins and cabinetry

Countertop, flooring, and other materials

Exterior and interior paint

Windows & doors

Appliances and other kitchen features
Don't forget about small spaces
Think about all of the best interior designs you've seen in the home's of your friends and family. What do they all have in common? They have a consistent decorative style in even the smallest of spaces.
We encourage you to not forget about these spaces in your home that will ultimately bring your space to the next level. Whether it's a not-often used room corner, small hallway leading to a bathroom, or your stairway, keep a consistent style throughout your home.
Find the right-sized furniture and features for the space
Make sure you choose furniture and features that fit in your space. When exploring for features and furniture, have the measurements of your new space ready. Whether it's a couch, dining table, area rug, TV, or anything else that will go into your home, having the items be proportional and fit the space correctly is crucial.
Design and build your perfect home
At Patrick A Finn, we have years of experience turning our clients' dreams into reality. We work with our clients to ensure their homes are exactly as they imagined, delivering a space that looks and feels the way they envisioned it in their head before starting construction.
Give us a call at (847) 358-4133 or contact us online today to learn more about what we can do for you.