Life happens in the kitchen. Not only is it the place where we prepare our food, but it is often the place where everyone tends to gather. And while the saying goes, " the more the merrier", if a lack of storage space clutters your kitchen, added people can make it feel stressful and crowded very quickly. Kitchen organization with the use of cabinet accessories will make the kitchen somewhere you want people to gather.
Remodeling with functionality and ample storage in mind can make the kitchen relaxing and inviting. This clean, peaceful feeling can be achieved rather easily when you consider adding cabinet accessories to your kitchen remodel. Here are some of our client's favorites.
Spice Racks and Drawers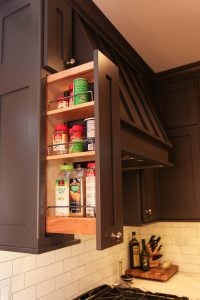 Spices can bring life to every meal! But it's hard to plan for all the different flavors of your dinner when you are struggling to find space for spices. Our clients have clear favorites when it comes to spice storage: pull out spice racks and spice drawers. The spice rack is common in either upper or lower cabinets. It is a perfect solution for utilizing vertical space in your kitchen. The spice drawer is installed in lower cabinets allowing you to take easily take a quick glance at what you have available.
Pot & Pan Drawers
In many kitchens, pots and pans are tossed into the largest cabinet available. Homeowners hope they can find the right pot and matching lid before having to empty the entire cabinet. Pot and pan drawers will save you from that hassle. They make kitchen organization simple. The drawers are built deep enough for your largest pots and wide enough to accommodate frying pans. Wooden pegs are installed to keep the pots and pans from sliding around and creating a messy drawer. There are also pegs installed in the front of the drawer making the lids easily accessible.
Garbage Drawer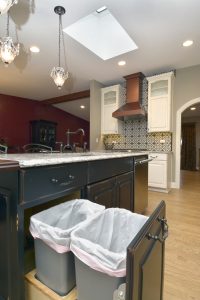 Garbage drawers are a customer favorite! Who wouldn't want to get rid of their conventional kitchen trash can? The garbage drawer can fit two cans which people often use to separate their trash and recycling. There is no need to worry about the cans moving out of place when opening the drawer. The drawer is specifically designed with wooden inserts to fit the exact size of the trash can.
Utensil Storage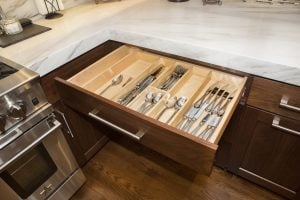 Not only is a utensil drawer aesthetically pleasing, but it is also highly functional. When dinner is hot on the table, you will easily be able to gather knives and forks for everyone without having to deal with a cluttered drawer. It is small choices like this that make kitchen organization obtainable.
Paper Towel Holder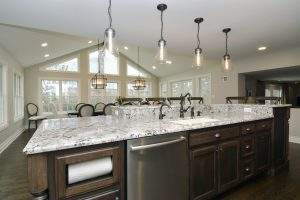 A paper towel holder is a great addition to any kitchen, but especially those lacking counter space. Oftentimes homeowners keep their paper towels on a stand on their counter. This can keep the paper towels tidy, but it takes up valuable prep space. A paper towel holder is perfect for above a lower cabinet door allowing every inch of the kitchen to be used.
Mixer Stand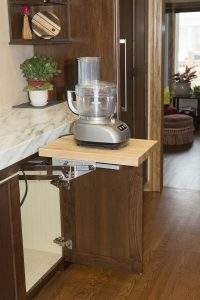 If you're looking for chef inspired kitchen organization, or if you simply love to bake, blend smoothies or use a food processor, then the mixer stand cabinet should be something you consider. The cabinet is set up so that the appliance can be plugged in on the inside. When you are ready to use it, you simply open the door and raise the platform. This is a perfect way to know that it is always readily available. It also allows for counter space to be saved because when it is not in use, you simply tuck it back into the cabinet.
Roll-Outs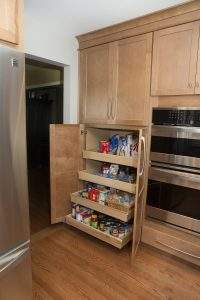 Homeowners love roll-out shelving because it is completely customizable to the storage space you need. The roll-outs can be spaced according to what they will need to hold for you and your family. Canned and dry goods are often best stored on roll-out shelving. While roll-outs are a simple addition to the kitchen, they are one of the key elements to kitchen organization.
Modern Day Lazy Susan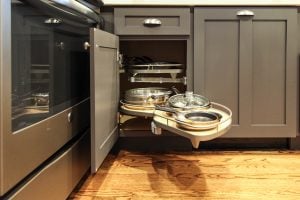 Lazy susans seemed practical years ago and that was before they became as sophisticated as they are now. Imagine what an addition they can be to your kitchen remodel! Modern day lazy susans completely transform corner cabinets to allow for maximum kitchen organization and storage. They are now equipped with shelves that swivel out of the cabinet allowing you to see and access everything you have stored. These lazy susans are easily a client favorite!
Each and every one of these cabinet accessories help to create a calm and functional kitchen. High functionality makes everything from daily meals to entertaining a much more pleasant experience! Visit our kitchen portfolio to see some of the differences we can make in your kitchen. If you are planning a kitchen remodel, contact us to help you create a unique and highly functional kitchen that you will love for years to come. We would love to be of assistance to you!