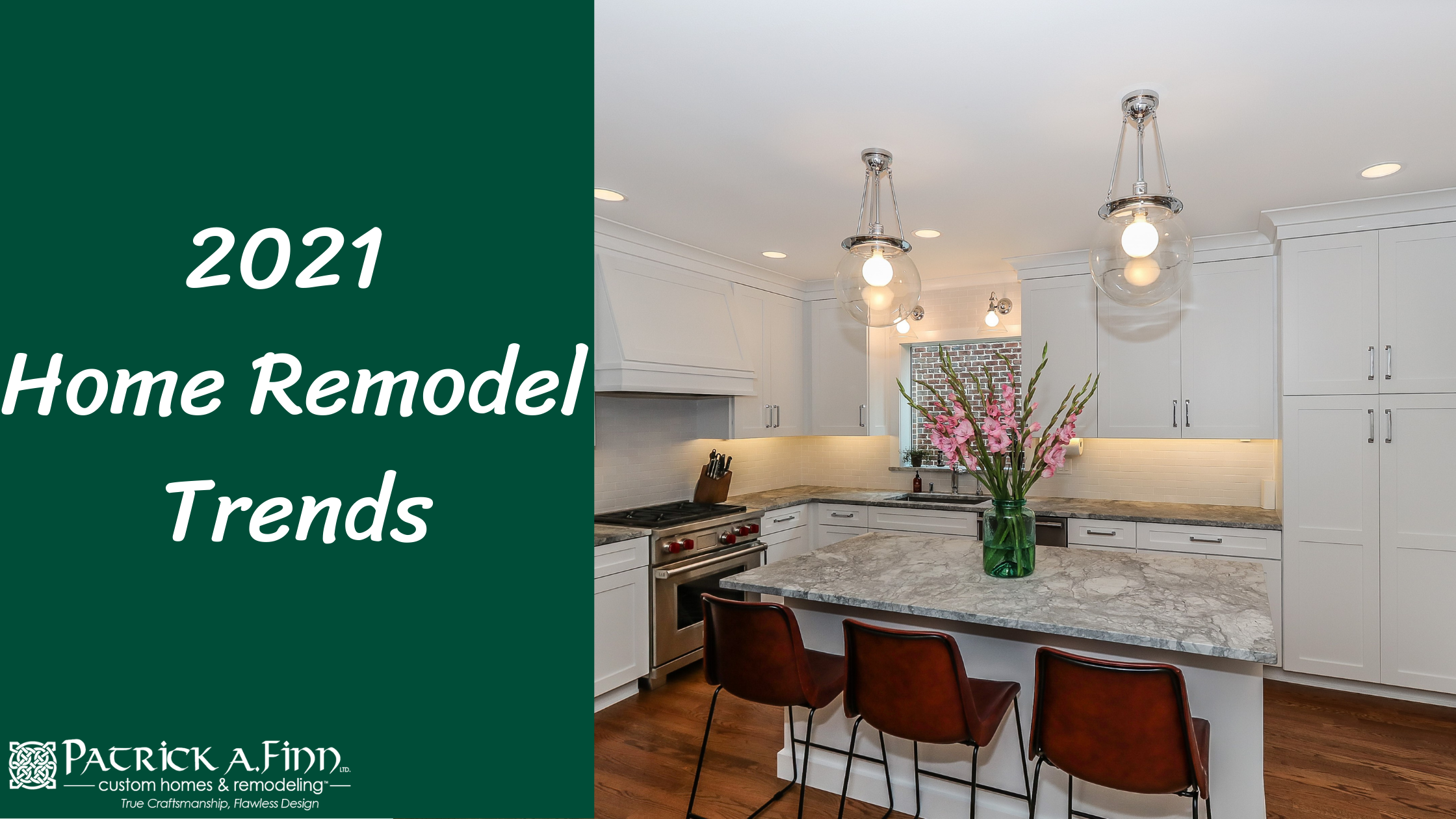 2021 Home Remodeling Trends in Chicago's Northwest Suburbs
Current and upcoming trends are something everyone likes to be aware of when planning a home remodel. This year, 2021 home design trends have been greatly impacted by the Covid-19 pandemic and the shift it has caused in the role our homes play in our life. Today, we'll dive into the trends industry experts anticipate for 2021 and why you may want to consider them as a part of your home remodel.

Work from Home
The first trend on our list is no surprise- space to work from home! Now more than ever, our homes are our primary space of work and education. With many companies considering a work from home policy for the foreseeable future, or maybe even an option once things return back to normal, a dedicated work from home space is a great idea for modern day homeowners. If you have space for a dedicated home office, be sure to consider your storage, electrical, soundproofing and lighting needs as a part of your design. You'll also want to consider how you can make this space feel more like a sanctuary to you. Stress levels are high across the country and finding ways to make your home office a relaxing, creative space will help you maximize your productivity.
If you don't have space to dedicate an entire room to a home office, consider where in your home can become a makeshift workspace. Maybe there is space for a murphy desk in your basement, or maybe you feel most productive sitting at the kitchen island. Wherever that space may be, be sure to "turn off" your work at the end of the day. What does that look like? Cleaning up computers, cords, phones and paperwork to help remove visual clutter and remind yourself that the work day is over. This will help you to separate your personal and professional portions of your day, despite them now occurring in the same space.

Organic Warmth
Another feeling that people are craving now more than ever is a sense of peace and warmth in their home. We want our homes to feel inviting and tranquil, a place to refuge at the end of the day. This is accomplished by bringing in a more organic feel to your home through natural materials, warm color tones and subtle texture. Things like wood grains in a floor, countertop or cabinet can bring that natural, organic feel that we are craving right now. When it comes to your fixture finishes, consider using a brushed or matte finish to keep the earthy feeling.
Incorporating more organic elements into your home design can create an oasis of comfort and ease. In kitchen design, we are continuing to see a rise in two, or even three tone, cabinetry with at least one tone that is a natural wood grain. White oak, teak, maple and walnut cabinetry are taking the stage at the moment. To add a modern, personalized flair to a wood grain cabinet, consider a reeded or quarter sawn oak style.

Indoor/Outdoor Living
Why stop at just bringing organic elements into your home, when you can focus on creating a space that maximizes indoor and outdoor living space. This trend was picking up steam in 2020 and is now trending at a full force. So how do you create a home that feels like an indoor/outdoor oasis? One of the most common approaches is to create a wall of glass accordion doors or large windows with a large slider on an exterior wall of your home. Oftentimes, this leads to a backyard and makes the outdoors feel like they are a part of your home and easily accessible. If you do choose to create a wall of accordion doors, consider that space leading out to an outdoor kitchen or comfortable patio. When the doors are open, this makes the outdoor space feel like a natural extension of your home.
If that sounds appealing, but more than you want to tackle right now, there are plenty of ways to create indoor/outdoor living on a smaller scale. If you're still looking for something can provide indoor/ outdoor entertaining, consider adding a pass through window to your kitchen. This will allow you to easily pass barbecue food and drinks to and from the grilling station. Or, take it one step further and create a small outdoor bar below your pass through window. If you're looking for something for an every day oasis, consider ways to bring the outdoors in with greenery. Whether that's houseplants, an indoor herb garden in your window sill or simply fresh cut flowers on the table, bringing some greenery into your home helps to create a feeling of cleanliness and relaxation.

Delineation of Space
For years, one of the most popular remodeling requests was for an open concept design. Some people were starting to shift away from a completely open concept floor plan in more recent years, but lockdowns during the pandemic made most people reconsider the delineation of space in their home. This will be a trend to keep an eye on in the coming years depending on how the pandemic has influenced you and your family.
What is causing the shift from open concept to dedicated, delineated spaces? Well, there are a few primary components. The first is the fact that more people are working from home and need a dedicated space to do so. It's difficult to have a conference call when your children are also learning from home in a virtual classroom. While some of this will change when the pandemic ends, many companies have agreed to allow their employees to work remotely on a more regular basis. Not only that, but recent years have seen an upward trend in multi-generational households. With more people at home, sometimes you just want a little space that is all your own. While a completely open floor plan works for some, others may find that a few areas of the floorplan should have walls or even doors to make them a bit more delineated. When designed and executed properly, this can still result in a cozy, multi-functional home.

Home Technology for A Sense of Control & Cleanliness
Last, but not least on today's list is the increasing trend of home technology. This likely isn't news to you, but the driver of home technology currently is cleanliness and control, as opposed to simplicity as it has been in years past. Homeowners are constantly being told to stay safe, wash their hands, regularly disinfect surfaces and to increase their personal hygiene routine. How can remodeling help you with that list? In the kitchen, touchless appliances and faucets can be a great way to avoid the spread of germs. Simply waving your wrist under your faucet ensures clean hands and no germ transfer by turning on and off the faucet. In your bathrooms, more people are considering bidets for extra hygiene and easy to clean showers complete with shower panels or large format tile to avoid an abundance of grout joints. In terms of whole home control, cleanliness, automation and convenience, common choices are a smart doorbell, smart home heat, interior and exterior motion sensor lights and voice automation compatibility. All of these items help you to minimize the surfaces you are touching on a daily basis.
A fun fact for you, the Covid-19 pandemic is not the first time a pandemic has had such a strong shift on design trends. In the early 1900's subway tile grew in popularity in residential settings because of it's white, bright appearance and easy to clean style. While most people know it's commercial use grew and it's name came from the subways of New York, few know that the residential popularity grew out of a need for cleanliness in the home during the Spanish flu. The color and texture of the tile made it easy to tell whether or not the space was clean. Bathrooms often had half walls of tile around the entire room because that was easier to clean than drywall. It's one hundred years later and subway tile is still an incredibly popular choice in today's homes.

If you're looking to remodel your home this year, our design build team would love to help you balance the latest trends with your own home and style to create a space for you to enjoy for years to come. Contact us online today or call us at 847-358-4133 to get started!
Written By Katie Finn