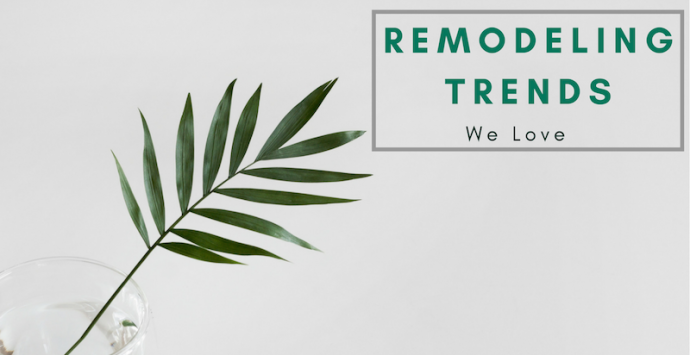 Home Remodeling Trends We Love
There are so many ways to remodel your home. With new remodeling trends coming in and out of style every year, it can be hard to know which ones you want for your Chicago area home. How do you strike a balance between a home that's modern and cutting edge, yet one that still has a classic and timeless look?
For this month's blog post, we're going to take a look at some of our favorite trends. In addition to being beautiful for modern homes, we also think these trends are here to stay.

Let's get started!
Design Trends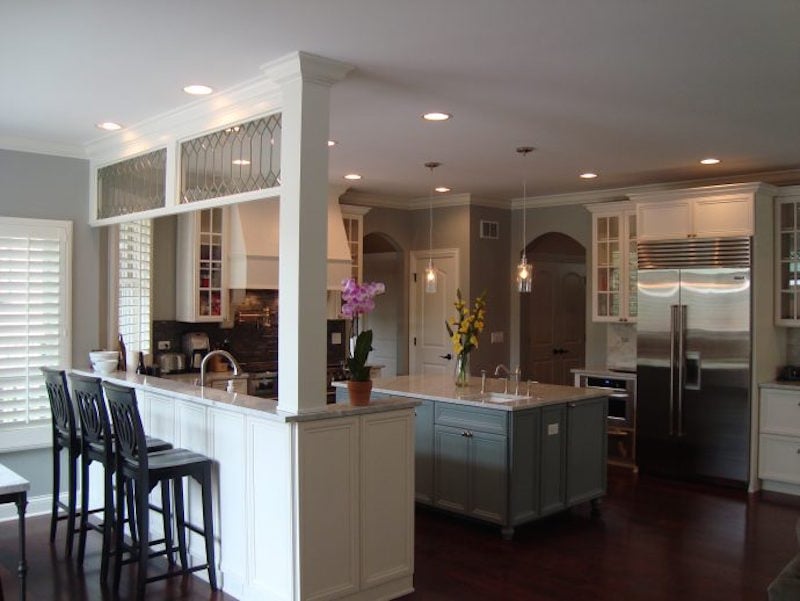 Open Kitchens
Kitchens are no longer just a place for cooking and preparing meals; they're the very heart and soul of your home. Kitchens are where eating, living and your family spirit merge into one.
One of the most popular kitchen remodeling trends is creating an open floor concept. An open kitchen allows for a central meeting place for you and your family. If you have small children, it allows you to view more of your home so you can keep a watchful eye on them. It also provides a space for you to entertain guests and host dinner parties.
Basement and Attic Remodels
More and more people are turning to the unused space in their basement or attic to add square feet to their homes. While these spaces used to be considered only for storage, the recent turn towards unique spaces and design have made basement and attic remodels more popular than ever before.
These spaces can be used for many different types of rooms, including:
Guestroom
Playroom
Home Office
Home Theater
Library
Den
Decluttered and Streamlined Design
Removing clutter and distraction from your life can be a boost to your mental health. Nobody likes coming home from a hard days work to a messy and cluttered home. The best way to ensure a tidy home? Put yourself in the best possible situation with good storage options.
A good way to do this is invest in storage solutions you love. Great decluttering solutions include pull out trash and recycling bins and cookie sheet organizers. Features like these allow you to take advantage of every bit of under-utilized space.
Aging in Place Remodels
Aging in place remodeling is centered around the philosophy that people are able to live happier and healthier lives when living at home. Homeowners are forgoing moving from their home and instead centering the direction of their home remodels towards a way that will let them live in their current space long term.
The goal with aging in place remodeling is to create a space that allows you to live your best life in an environment that's both safe and tailored to your individual needs. As such, the concept is centered on three key lifestyle concepts:
Safety
Convenience
Luxury
Some trendy features of aging in place home remodeling include:
First floor bedroom additions
Open floor plan
Wide doorways
Front-control appliances
Reachable switches and electricity outlets
Curbless showers
Large seated showers
Dual sinks
---
Learn More About Aging in Place Remodels
Our Favorite Aging in Place Remodel Features
---
Technology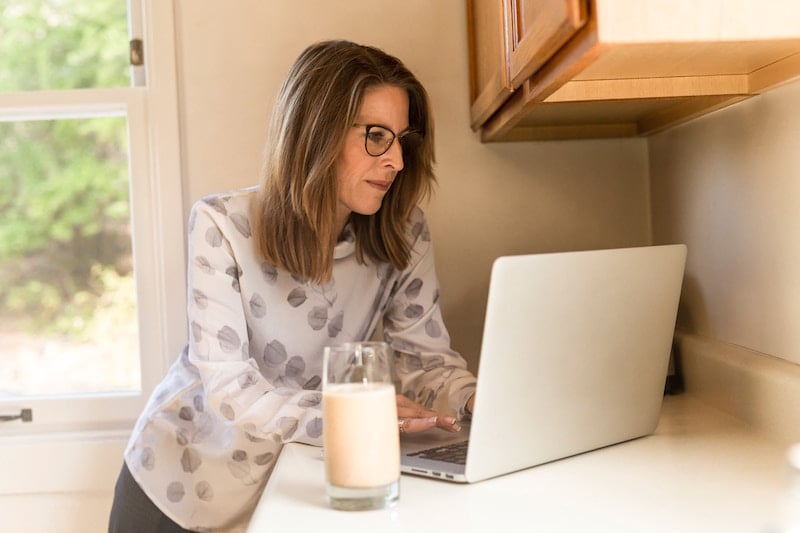 A common trend we are seeing with homes remodeled in the Chicago area are homes equipped with smart assistants. Some popular smart home assistants include:
These smart speakers have the ability to answer your questions, play music, and a range of other commands. Most importantly for homeowners though is its ability to control different appliances and features in your home with just the power of your voice. Best yet? Most smart home integrations make your home more efficient and will save you money on electricity and heatings costs.
With smart home assistants, you can control:
Window treatments
Lighting
Thermostat
Appliances
Security camera
Smoke and carbon monoxide detectors
Locks
TVs
An ever-growing list of other appliances
While these all seem futuristic and complicated, they are here and extremely easy to manage and set-up with an experienced home-remodeler by your side.
Eco Friendly Remodeling
As materials and systems become more and more efficient, eco-friendly remodeling trends are on the rise.
This remodeling trend includes utilizing materials such as bamboo, which can be harvested and regrown with minimal impact on the environment. In addition to its earth-friendly properties, bamboo also looks beautiful and is strong and long lasting, meaning you won't be replacing it anytime soon.
Other aspects of eco-friendly remodeling includes:
Adding insulation
Installing double-pane windows
Buying energy star appliances
Utilizing smart-home technology
All of these will reduce your energy use, easing your impact on the environment and incurring less of a hit on your wallet come bill time.
Materials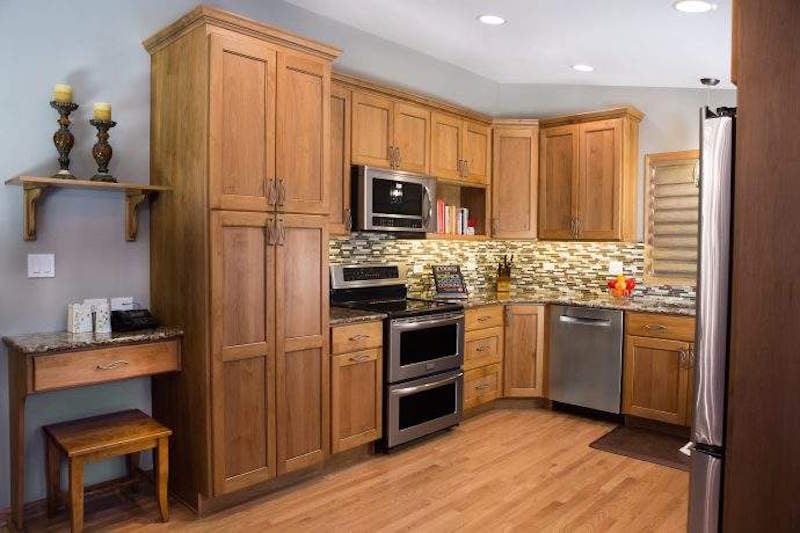 Metal
While metals have always been used as accent items throughout the home, it's now being used as a central aesthetic theme in home remodels. Stainless steel appliances such as dishwashers and refrigerators are now focal-points of kitchens and provide an excellent backdrop to more subtle tones in the rest of your kitchen.
Remodelers Tip: Try mixing and matching different metal types to create visual texture in your home and create a trendy and sophisticated look.
Wood
Similar to metal, wood has always been utilized in interesting ways in homes of all types. Now, however, it's being used in more creative ways. For instance, one trend we see is wood paneling used on walls, paired with a different style of wood flooring. This gives a visual contrast that adds complexity to any room.
Wood tile looking vinyl flooring is a remodeling trend gaining popularity with homeowners. It is perfect for those wanting the advantages of vinyl flooring with the look of real hardwood floors.
Quartz
For high-end countertops, quartz is a trending material that creates an elegant and distinguished look in modern kitchens. Its durability and virtually maintenance-free reputation has made it a go-to countertop material for luxury kitchen remodeling projects, particularly with softer toned, more neutral quartz.
Features and Appliances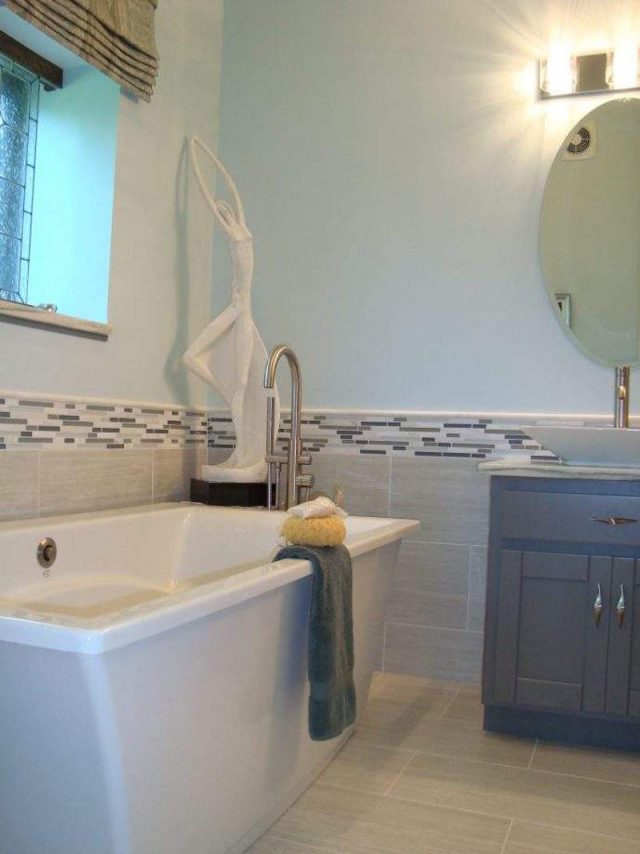 Stand-Alone Bathtubs
The functionality of combo bath-showers used to reign supreme in most bathroom remodels given their efficiency of space. One of the recent bathroom remodeling trends is the rising popularity of stand alone tubs for a more spa-like experience.
With a stand-alone, oversized tub you can fully submerge yourself in water, allowing for a relaxing way to end a long day.
The most popular types of stand-alone bathtubs include:
Clawfoot tubs
Garden tubs
Japanese soaking tub
Mudroom Additions
Mudrooms are a remodeling trend that are quickly gaining in popularity given the practicality of such a space for a family. Not only does a custom-designed mudroom give you the flexibility to design the room to you and your families needs, they also will add space by taking the storage off all of those items out of whatever room they are currently in, decluttering your home in the process.
Some common mudroom features include:
Storage benches
Coat racks
Cubbies
Washer and dryer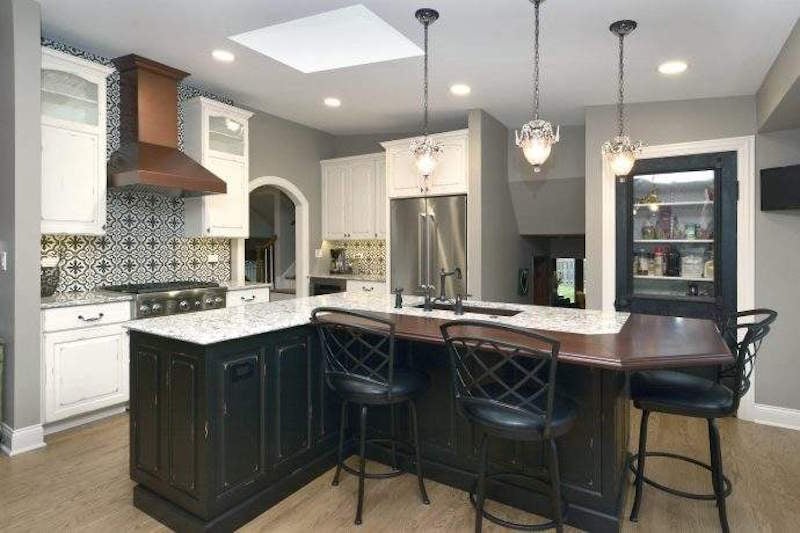 Multipurpose Kitchen Islands
A common feature of open kitchens are kitchen islands that allow for a completely unique and modern experience. With multi-purpose kitchen islands, you can put:
Bar seating
Appliances like a microwave drawer
An additional or primary sink
A wine refrigerator
Extra cabinets for storage
These will also allow for more surface area when entertaining and to reinforce the kitchen as the central hub of your home.
Ready To Get Started on Your Home Remodel?
Patrick A. Finn has been helping create remodeling trends into timeless homes for over 25 years. We love turning our client's dreams into reality, and want to help you design and build the perfect home.
Questions on any of the trends seen here or interested in implementing one (or a few) into your home? Give us a call at (847) 358-4133 or contact us online to see what we can do for you!
Written By Patrick Finn