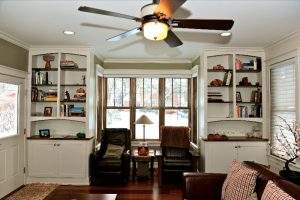 New Year, New House - Part 3 - The Family Room
Part 3 - The Family Room
Next to the kitchen, the Family Room is the heart of the home, but it can often also become the main collection room for all your stuff too. When it comes to the Family room, think of the simple organization. There are several options when it comes to organization, ranging from a simple trip to the store for some organizational items to a full-scale renovation of your Family room and several options in between.
The quickest and simplest way to get your Family Room working the way you want is to invest in some stylish and functional baskets, containers, and shelving units. Use smaller baskets to organize such items as remotes and gadgets and larger baskets for blankets, toys, and photo albums. You can also stack larger books or organize them on a bookshelf by size or color for a decorative effect. Thorough cleaning and de-cluttering will get the job started, and the organization will keep your room functioning at its best.
Storage furniture can also help with function, flow, and organization in your Family room. Storage ottomans are great options for those larger items, as well as adding a footrest or extra seating as needed. Sofa tables help to add dimension and help define the boundaries of a large room by creating a space behind your couch. When selecting any table - sofa, coffee, or end - look for ones that offer extra storage in the form of a shelf, drawer, or cabinet to create places to store items out of sight but conveniently close by. Bookshelves also are a great addition to any room, especially a Family Room, for storage and display items.
If you are looking for a more permanent addition to your Family Room, consider having custom built-ins designed and built to fit your space and storage needs. An entertainment built-in around a TV or fireplace with bookshelves, cabinets, and some decorative trim. It can dress up any wall space and add needed storage and organization. Especially if you are dealing with a smaller space where there is not a lot of room for furniture, a built-in can add the function you need without taking up too much of the room.
Lastly, if your space is truly not working for you, you may want to consider a complete renovation or even an addition. If you have space inside that you can borrow from, or consider a small addition; just a few feet can make a major difference in the functionality of your room. Square or almost square rooms work best if you are looking for one large space. Longer rectangular rooms are optimal if you are looking for a multi-functional space. If you need to accommodate an office or play area, consider defining that separately from the main Family Room.
However you decide to define the function of your Family Room, the most important thing is to create a space that works for your family's needs and helps them together.
Written By Patrick Finn