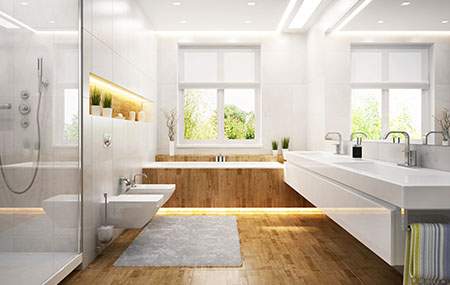 Steps of Planning a Bathroom Remodel
The bathroom is one of the most important rooms in the home. Having one designed to fit your family's needs makes mornings go smoother. When the morning is better, the whole day is better.
Bathroom Remodel: Step 1
The National Association of the Remodeling Industry (NARI) says there are several steps in the bathroom remodeling process. Daydreaming is the most fun and the least expensive step. Start a Bathroom Remodel board on Pinterest and use it to organize photos of fixtures, paint colors, and other items.
Bathroom Remodel: Step 2
Once you know what you want, it's time to set the budget. This is where reality sets in, but it's important to decide how much you can afford before you start pricing your wish list. Decide what's most important and where you can compromise.
Bathroom Remodel: Step 3
Finding a contractor can be intimidating, but it's not impossible. Ask friends and family for recommendations and visit websites. Narrow your selection to a few before you start getting quotes to avoid becoming overwhelmed. Home improvement expos are an excellent way to check out several professionals in a short time. Be sure to ask about references and quotes in writing.
Once you've selected a contractor, be sure to keep each other in the loop. Ask about any inconveniences during the process. This is especially important in the case of a bathroom remodel. Let your contractor know about any schedule changes, like vacations. Move personal items out of the area; they don't want clients and flat irons in their way. Keep the kids and pets out of the way too. There's a very high chance they'll get hurt and they'll definitely slow the process. In the world of remodeling, lost time for them is lost money for you.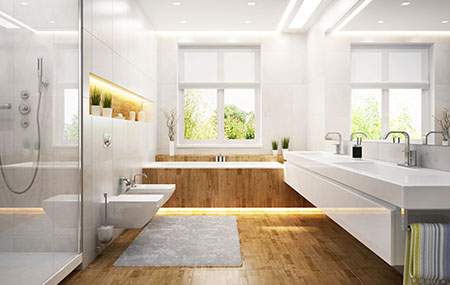 Bathroom Remodel: Step 4
When the project is completed, check over the contract and make sure you have all the permits, warranties, owner's manuals and other paperwork. Ask if any new fixtures or appliances have special care instructions.
Keep all paperwork, including contracts and plans, in a folder. If the plans change, ask for a written change order and have both parties sign. When you pay off the contract, ask for an Affidavit of Final Release and a final waiver of mechanic's lien. These protect you from liability for third party claims of nonpayment.
Contact Patrick A. Finn Custom Homes & Remodeling
When you're ready to stop dreaming and start remodeling, visit the professionals at Patrick A. Finn Custom Homes & Remodeling. Their bathroom designer will walk you through a free consultation to discuss your ideas and budget. Their professionals will obtain the necessary permits and building materials to bring your ideal bathroom to life in Arlington Heights, Barrington, Palatine, Mount Prospect, Buffalo Grove, and the surrounding communities.
Bathroom Remodel Costs
The average cost to remodel a bathroom in 2014 was $17,700, according to the National Kitchen and Bath Association. Fortunately, it also increases a home's resale value.
Resources:
National Association of the Remodeling Industry http://www.nari.org/
http://www.angieslist.com/articles/how-much-should-bathroom-remodel-cost.htm
Written By Michael Parziale