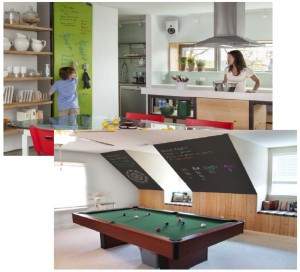 Write On It!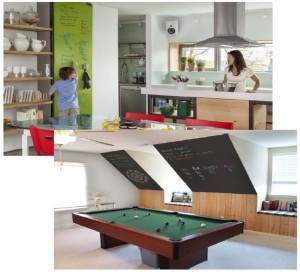 Often we do not encourage our kids or family members or friends to write on our walls, but what if they could? You may be familiar with chalkboard paint that has been circulating in the housing design market for the last few years, but there is a new product on the market that may soon overtake chalkboard paint in versatility and creativity! That product is Dry Erase Coating!
While walking through the booths of NeoCon (a design and product showcase in Chicago) last year , Monika and I came across several different brands of this new product and were intrigued by its possibilities. Some brands offer the product in a base color of white or black, but the most popular application is a clear coat finish over any base color you want. This one step clear coat creates worlds of possibilities for application, color and creativity. The product has two components, a base can that you add a catalyst into, to create a chemical reaction that creates a hard dry erase surface once applied to the wall (or other surface) and allowed to cure. Simply prime and base paint your walls to whatever color you choose or use an existing wall color or surface, just make sure it is clean and free of dust. Then mix the two part product together, roll it on the desired areas and let cure. While the product does dry to the touch, depending on the brand there is a 4 to 10 day curing process before you can write on your walls. If you change your mind and no longer want a dry erase surface, simply sand the finish of the wall lightly, prime and repaint.
So where should you use this new product?
The Playroom – Paint it on a create wall for your kids to draw and write on, or paint a table top, easel, toy chest, etc… Just make sure your kids know which surfaces they can write on and which they should not.
The Kitchen – Make use of a dead wall with a place for menu planning or grocery lists, notes to the family or weekly calendars. Small projects could include painting the inside of a cabinet for hidden organization, or the front of your Fridge for a writable and wipe-able surface.
The Home Office – Make your walls work for you with a large space to map out ideas or work plans. Create story boards or timelines without getting out the roll of paper.
The Game Room – Paint one wall (or sloped ceiling) and use as a place to write out the rules of the game or keep score. Play Pictionary or Hang-man right on the wall, or use the white base to also double as a projection screen for the big game – you can even mark on the wall like the commentators do.
The Mudroom – Turn an entire wall into a localized family message center, with calendar, chore charts, weekly tasks, grocery lists, whatever will keep you organized. Plus you can write encouraging notes to your family members that they will see when they leave or come home for the day.
Try these creative ideas and remember there are different kit sizes and once the product is mixed it has to be used. So consider some of the smaller projects to have on hand to use up the remainder of the coating once you have painted your wall or large surface.
Written By Patrick Finn